Home
>
All news
Swimming Pool Company Desjoyaux Invests in Production to Regain Margin
20/02/2023
After three years of record growth, the Loire-based swimming pool company Desjoyaux has reported a slight downturn in 2022. To counteract the geopolitical situation and rising inflation, hardly conducive to growing the business and increasing margins, the family-run SME is continuing its investments, with its sights set on the internalisation of some of its manufacturing and a new plastic waste sorting centre.
The bubble has burst for Desjoyaux Pools. After three years of record growth that allowed it to grow its turnover from 102.7 million euros in 2019 to 160.9 million euros in 2021, the Loire-based swimming pool designer and manufacturer saw an abrupt slowdown in 2022. While at the halfway point it was expecting 5% growth in turnover, the company ended up finishing the financial year with a slightly lower turnover of 160.5 million euros.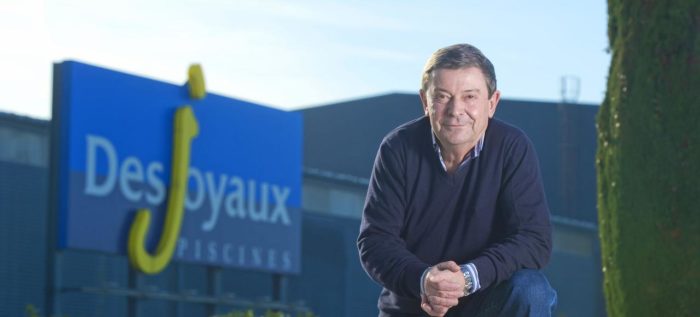 A Decline Expected in 2023 but Margins Recovering
In France, the number of '8m x 4m equivalent' pools sold has fallen by nearly 10%, offset by the rise in prices and the increase in average order value, which have now ended up resulting in a 2.47% increase in turnover. It is in international markets that the slowdown has been most dramatic, with a 20% decrease in the number of pools sold and a 4% drop in turnover. "We have suffered the full force of the international geopolitical situation and rising inflation. Higher costs of materials, coupled with the increase in energy prices, have meant that we've seen a downturn in business. We will no doubt see a decline in the 2023 financial year in progress," said Jean-Louis Desjoyaux, CEO of the family business.
Of course, this downturn in business has not been without consequence for the group's net income, which was 21.3 million euros in 2022, down from 25.5 million euros in 2021. "Margins have fallen but we are going to recover them this year by increasing prices further and also continuing our investments and extensively reinternalising some stages of production," said the CEO.

25 Million Euros Committed to Industrial Equipment
In the autumn of 2021, Desjoyaux began a huge 25-million-euro programme of investment in its site in La Fouillouse, in the Loire valley. This programme includes the construction, currently under way, of a new storage and semi-automated dispatch warehouse, new communal areas for staff (changing rooms and canteen), new injection moulding machines (a 10-million-euro investment), new moulds and a new workshop with a production line (an investment of over a million euros) for the manufacturing and bagging of certain products.
"We are going to internalise the manufacturing of some of our products, like the screws, nuts, bolts and struts for pools, which we have had made in China up until this point. We're going to replace the steel with plastic in order to free ourselves from our dependence on China," explained Jean-Louis Desjoyaux.

The 25-million-euro investment programme, which is due to finish in 2024, also incorporates the construction of a new building dedicated to R&D, "which will follow a bit later," according to the manager. The swimming pool company invests nearly 3 million euros per year in R&D to innovate in the areas of materials and filtration and assembly systems.
An Additional 20 Million on a Plastic Waste Sorting Centre
What wasn't originally planned but has just been added is the creation of a sorting centre for household plastic waste. "We are going to receive bales of polypropylene and polyethylene from sorting centres. We're going to sort them, wash them, shred them, dry them, remove fine particles, remove metal and extrude them to then inject them into the structures of our pools," explained Jean-Louis Desjoyaux.
By transforming the household plastic waste into a raw material, the SME should, in time, be able to drastically lower its production costs. "By around 30%," said the CEO of the family-run group, which is going to invest "around 20 million euros" in this sorting centre. "Within the next three months, we are going to submit an application for planning permission for a 5,500m2 building. With the time it takes to build the machines to go in it, it should go into service in late 2024," he said.
50% of Turnover from Exports Within the Next Five Years
A strategic move for the long term, this new investment rounds off the set of solutions implemented by the Loire-based company to better control its supplies, its costs and, ultimately, its margins. But to get back on the path to growth, the family-run SME is also going to boost its business development.
"We are going to continue to open new stores, both in France and in all the countries where we have subsidiaries. That's the key," said Jean-Louis Desjoyaux, who wants to reach "200 stores in France within the next two years" (there are 182 today and 450 worldwide). The international network of stores should also grow across the group's five subsidiaries in Brazil, the US, Germany, Italy and the Iberian Peninsula (Spain and Portugal).
Desjoyaux, which currently generates 40% of its turnover from exports, is aiming to increase this to "50% within the next five years".
Wellness as an Important Growth Area
Finally, the swimming pool manufacturer is also attentive to new market trends. While property issues resulting in shrinking plot sizes have led the Loire-based business to adapt its products to the increasing demand for 5m x 2m and 4m x 2m pools, another recent trend is wellness.
"Customers want smaller and smaller pools with more and more functionalities. Counter-current swim jets are great, but we have to go further than that. We are working on products for massages using pressure and vacuum technology, products for cellulite reduction and products for foot massages. Wellness is part of our development strategy," said the manager. He concluded: "At first, it will remain a niche, but it's sure to grow over the years. And we have to be present in these markets."

Le journal des entreprises https://www.lejournaldesentreprises.com/auvergne-rhone-alpes/article/le-pisciniste-desjoyaux-investit-dans-sa-production-pour-regagner-de-la-marge-2054859
By Gilles Cayuela, 10th February 2023