Home
>
All news
Desjoyaux to expand its training centre to cover more trades
09/11/2021
Desjoyaux's training centre, originally created to address a shortage of 'good masons' to install the company's swimming pools, is now going to open its doors to trainee plumbers and electricians.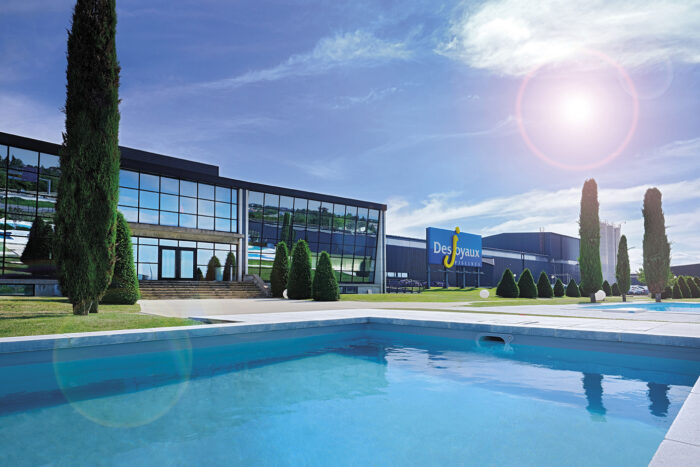 Propelled by the sharp rise in temperatures and the public health crisis heightening the trend of the French investing in their main or second homes, Desjoyaux is heading for another record-breaking year. After achieving a turnover of 115.2 million euros in the 2019-2020 financial year (a 12 % increase), the Loire-based swimming pool manufacturer could cross the 150 million euro mark in the 2020-2021 financial year. This staggering growth has not come without consequences for recruitment.
In spring 2021, facing a shortage of 'good masons' to build and install its pools in France and elsewhere in Europe, the Loire-based SME launched its own masonry training centre in partnership with Pôle Emploi (the French job centre). Since then, the world leader in in-ground swimming pools has seen two cohorts of 12 and 15 masons respectively finish the 12-week training course ready for employment.
A shortage of masons, plumbers and electricians
"These employees we have trained should, in a year, build 50 extra swimming pools for each dealership. "We are currently turning down projects and pools because we don't have enough staff for the installation," explains the CEO Jean-Louis Desjoyaux.
While good masons are becoming rare, this is also the case for plumbers and electricians. To address this shortage of labour, the Loire-based group decided to expand its training centre, which it invested 120,000 euros in when it was created, to teach more trades.
"We are going to take on a new cohort of thirty or so employees who, this time, will be trained in the plumbing and electrical trades to become technical staff at our dealerships," the manager explains. This cohort is due to start within the next month.
Article published in LE JOURNAL DES ENTREPRISES