Home
>
All news
Companies: Desjoyaux excels internationally and makes its mark in Germany
13/09/2021
Desjoyaux, the swimming pool manufacturer and market leader based in Saint-Etienne, France, has recorded exceptional growth of approximately 35% over the last financial period. Exports have also seen a notable boost, particularly in Germany.
The company's financial results for the year 2020/2021 are due to be published in a few weeks, however, the upward trajectory is indisputable. With growth of 35% to 40% over the last financial year (which should therefore reach around €140 million in turnover, with 300 employees and 9,000 pools sold over the same period), the Saint-Etienne-based company Desjoyaux has clearly not been affected by the pandemic.
On the contrary. "People have been left in limbo due to the health crisis. Holiday or no holiday? They have opted to invest in their homes to make any future lockdowns a more pleasant experience", comments Jean-Louis Desjoyaux, CEO of the eponymous family business (see photo).
"Since the first lockdown, there has been a significant increase in demand," he continues. "However, this has only accelerated an existing trend, as in February 2020, even before the pandemic, growth was already up by 25%.
The garden is now viewed as a room of the house in its own right. Owners want to make it a cosy wellness area, an extension of their home."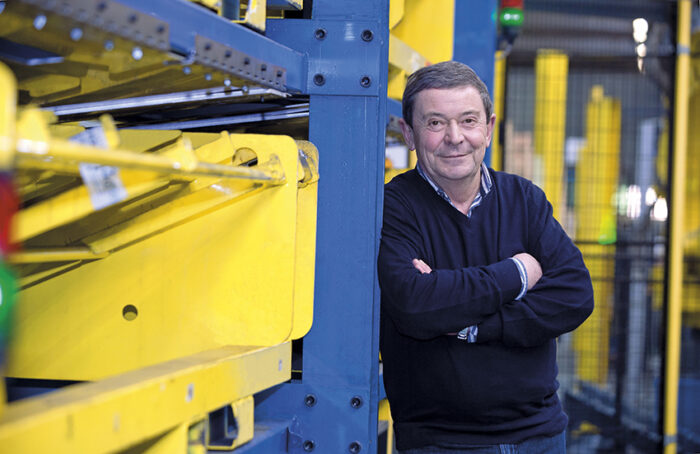 The 2020/2021 performance of this SME in the Rhône-Alpes has been exceptional in France, but results have been even better internationally. "By creating subsidiaries, we have managed to further accelerate our growth." Last year, 35% of the company's revenue was generated abroad. This was a slight increase on the previous year, which had already been a little better than the one before.
"Each year, exports are catching up a few points with our sales in France. They will soon represent 40% of our turnover, and in a few years' time, we will definitely be selling more swimming pools abroad than in France.
" This is the result of a strategy launched 8 years ago, with the creation of subsidiaries in Germany, Spain, Italy, Portugal, Brazil and the United States. "Up until that point, we relied on distributors but we weren't progressing fast enough. By creating subsidiaries, we were able to significantly accelerate growth," comments Nicolas Desjoyaux, Deputy Chief Executive Officer of the company.
Number 1 in Germany and Spain
This acceleration has been particularly significant in Germany where the SME is now number one in the country. With 50 employees and a German manager, its subsidiary operates a network of 55 independent dealers. Last year, there were only 38. The target is to establish 100 points of sale within the next three years. 2,000 pools were sold last year, twice as many as the previous year and 1,000 less than the target set for 2021/2022.
"We have now reached critical mass, enabling us to establish real brand awareness. We have become a well-known brand in Germany and this makes further development a lot easier. I have to admit that we are very proud that a French company is number one in Germany," says Jean-Louis Desjoyaux.
The SME has also laid claim to the leadership position in Spain, with operations having taken off there before those in Germany. What's more, for the next ten years, the Desjoyaux family has its sights set firmly on the United States. "At the moment, we only have 12 dealerships, but we are certain that the future prospects there are excellent."
Organisation unaffected by the health crisis
Despite the sudden halt in travel, the SME's international organisation does not appear to have been significantly impacted. "In the six countries where our subsidiaries are based, they have continued to manage dealer recruitment locally," explains the CEO. "And our steering meetings have been held virtually. In the countries where we have importers and distributors, we have been working with them remotely, with significant investment made in digital technology (social media, and in particular, SEO), as well as in direct marketing."
A winning strategy since Desjoyaux has recently signed its first contracts with importers in Mauritius, Armenia and Australia. It is currently finalising its first contract in Libya.
Industrial investment
To keep up with the pace of growth, Desjoyaux has just approved an investment of €25 million for its factory in the Saint-Etienne region, where all of its equipment is manufactured for the entire world.
The headquarters of swimming pool manufacturer Desjoyaux (DR) "We currently have a production capacity of 13,000 pools per year. With this investment, this can easily be increased to 20,000," notes the CEO, who is committed to an approach of designing pools that are ever better equipped.
On the agenda: a 10,000 m² expansion, a new R&D building and new production machines (in particular, moulding machines). Work has already begun and should be completed within two years. About twenty additional staff should be recruited over the same period.
Stéphanie Gallo
Article published in LE MOCI on 30/08/2021