Home
>
All news
Desjoyaux, riding the wave of popularity of private swimming pools
03/09/2021
SUMMER SERIES – COVID WINNERS IN BUSINESS
In a public health situation that has led to limitations on travel, and even to lockdowns at certain periods, there has been a tendency for house owners to invest in swimming pools. A boost for the sales of the world leader in in-ground pools.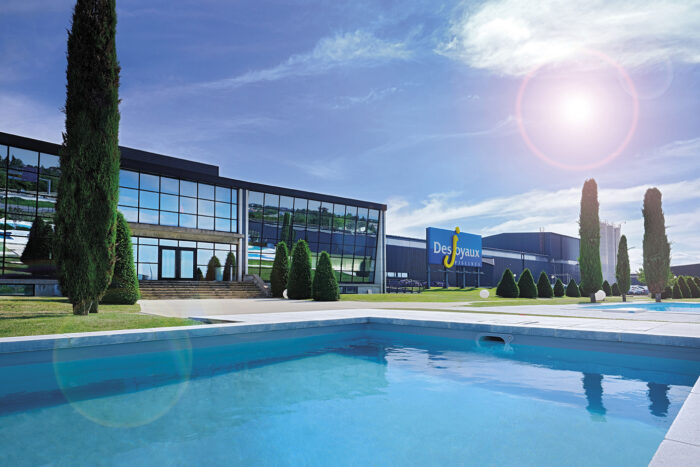 Even the bad weather across large areas of France this summer has not been enough to spoil the happiness of Jean-Louis Desjoyaux, the CEO of the company which carries his name and has claimed the title of 'world leader in in-ground swimming pools.' While he admits that "in the next financial year, we will pay for these last few years a bit", he observes that "the weather has been really quite helpful for us". And it is not just that… There's the COVID-19 pandemic too. In a public health situation that has led to limitations on travel, and even to lockdowns at certain periods, there has been a tendency for house owners to invest in swimming pools.
A sharp rise is expected in the turnover of the company, based at La Fouillouse, near Saint-Étienne, for this financial year, which draws to a close at the end of August. Desjoyaux is even set to break a new sales record for 2020-2021 and increase the previous year's strong performance – 115.2 million euros for the 2019-2020 financial year – with a net income of 14 million euros, up 43.5%. "The move towards more 'cocooning' in leisure spending, with house owners who want to have everything at home and see a swimming pool as an extra room for their house, is also working in our favour," observes the CEO. "The COVID crisis has reinforced this trend."
13,000 pools sold in one year
In order to meet demand, the family SME called on 90 temporary members of staff over the last few months so that they could step up the pace, including at weekends. Its 240 employees received 3.6 months' worth of salary in profit-sharing last year, but "this year, it will be a lot more", says Desjoyaux.
"The number of sales has increased by nearly 40%, with 13,000 pools sold. It's unbelievable," recognises the head of the company, who is preparing his son Nicolas to succeed him one day. Currently the Sales Director, Nicolas is overseeing the French brand's development in the United States, the world's biggest market, from its subsidiary based in Atlanta. Apart from Brazil, all of the other subsidiaries are in Europe (Portugal, Spain, Italy and Germany), while the one targeting the difficult Chinese market was sold last year to an importer.
Share price almost tripled
The expected profit increase should further boost the rise in the share price quoted on Alternext Paris, with around 25% free float; the price has reached 31 euros, up from less than 11 euros at the start of the first lockdown in France, putting the value of the company at almost 280 million euros. "The stock exchange can be over-the-top in both directions," warns Jean-Louis Desjoyaux, who listed his company in 1992. Nevertheless, he predicts "a strong trend ensuring us growth in the coming years, unless the weather becomes awful." He is also seeing a move towards smaller pools, due to the available land becoming scarcer and more expensive.
The confidence of management owes partly to the strong growth in certain countries. The most spectacular growth is taking place in the very lucrative German market, where the company has around 60 employees and 55 dealers. "It has become our biggest export market. We are predicting that we will sell 3,000 pools there next year, which is 50% more than this year," says Desjoyaux. He is a big football fan, still playing regularly at 68, and does not hide his pride at having built a pool for German football legend 'Kaizer' Franz Beckenbauer.
Germany, biggest export market
In France, which still accounts for almost two thirds of its sales, the use of the 6,500 public swimming pools, branded an 'obsolete model' by the Cour des Comptes (Court of Audit) in a 2018 report, continues to decline. Meanwhile, there has been growth in new leisure offerings, such as the hire of private pools, even if these pools do not really, for the most part, lend themselves to swimming as a sport.
In the first half of the year, Desjoyaux allocated 6 million euros to its machinery and new moulds. It is also investing in R&D and expanding its range of accessories, which accounts for 35% of its turnover. The manufacture of plastic blocks that are quicker and easier to install at the base of pools is now a part of this. "New balneotherapy equipment, using a skin suction massage system, will soon be available for those interested in wellness treatments," says Desjoyaux, whose company is planning to expand its 7,000-m2 site.
Article published in LesEchos – Journalist: Denis Meynard.