Home
>
All news
A great success story about water
14/01/2021
Your holiday on the other side of the world has been ruined by the health crisis. So you've decided to jump into your own swimming pool !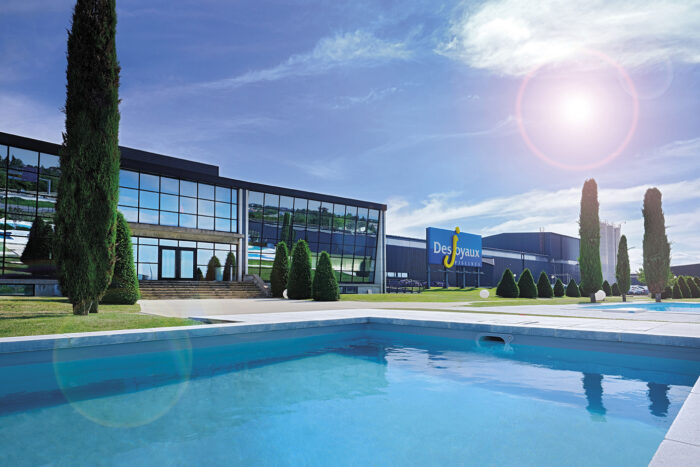 Many French people in lockdown who have been forced to give up many expenses have seen their lust for better everyday comfort grow. And, with the increasing number of heat waves, a cool pool in the middle of the garden has been an obvious choice. Especially since the swimming pool is no longer a luxury reserved for the happy few. Since the 1990s, it has been democratised.
The Piscines Desjoyaux family group knows all about it, having actively participated in this liberation.
In 1966, Jean Desjoyaux built his own swimming pool for his children. He then launched two innovations that were to revolutionise the sector: the single-piece structure and pipeless filtration. With the patents registered, the expansion phase began, thanks to a network of exclusive dealerships throughout the world. The selling price of the pools began to fall from the 1990s, after investments allowed large-scale production sites to be set up: from a few hundred a year to more than 4,000 units. Automation and innovation made it possible to widen the ranges and, on the commercial level, the regional coverage increased. Finally, in order to increase profitability, the company decided to internalise the extrusion of the raw materials used to manufacture the pool panels.
Higher profitability
Today, through its exclusive importers in 66 countries and its six international subsidiaries, the group is the leader in the in-ground swimming pool market and is riding the wave of growing demand that has been sweeping the sector for several years.
It is therefore no coincidence that, for the second consecutive year, Piscines Desjoyaux has published record annual results (year end August): with turnover up 12.2% to €115.18 million, gross operating margin reaching 22.3% of sales, compared with 18.9% the previous year, and net profit jumping 43% to €14 million.
In the midst of the health crisis, this exceptional performance resulted from better control of purchases, external expenses and personnel expenses.
The capital expenditure programme remains contained (8 million compared with 5 million the previous year).
Lastly, given the increase in cash flow from operating activities of 2 million to 21.5 million, the balance sheet position improved. Cash flow net of financial debts rose from 10.6 million to 19.5 million.
While remaining prudent, management is optimistic about its prospects, given its innovation policy.
Article published in Leséchosinvestir
Sylvie Aubert