Home
>
All news
Desjoyaux establishes its own training centre for pool professionals
13/11/2020
In order to address the lack of qualified professionals, the group, based near Saint-Étienne, has recently set up a training centre.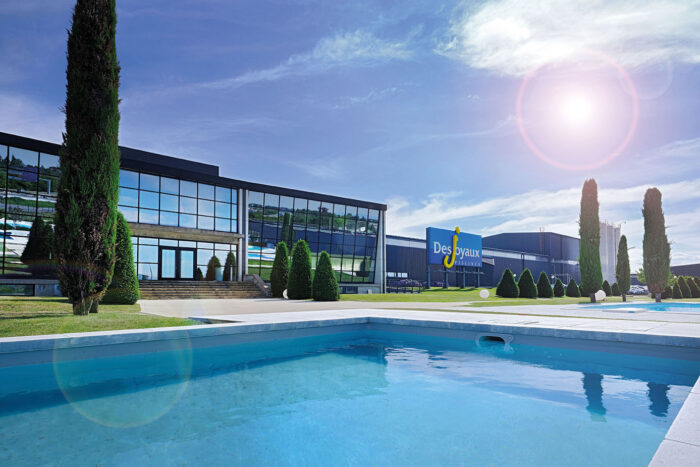 Despite the economic downturn caused by the pandemic, the well-known Desjoyaux Group (240 employees, turnover of €103 M), based in La Fouillouse (Loire), believes that its franchise network (165 dealerships in France, 380 around the world) is on course to end 2020 with its turnover up by 10%. "Of course we experienced a degree of uncertainty at the start of the first lockdown but we soon got back on track," explains a delighted Jean-Louis Desjoyaux, the Group CEO, who believes that the success of its products is based on two main factors.
Finding qualified personnel
On the one hand, climate change, which allows pool owners to use them for longer (between late spring and early autumn). On the other hand, the fact that many French people, experiencing difficulties going on holiday this summer, decided to invest in building their own pool. To deal with this surge in demand, the brand has invested nearly 8 million euros in the past year, in particular with a view to adding an extra 800 m2 of space at its headquarters.
Its training centre has benefited from an investment of 120,000 euros to complement the accredited training college, which has been providing training for employees and dealers for many years. "Making and selling more pools is one thing, but finding qualified personnel to install them is another," acknowledges Jean-Louis Desjoyaux.
Masonry training centre for pool professionals
To address this skills shortage, the Group decided to work with Pôle Emploi, the French public employment service, to set up a training centre for masons and pool professionals. "Faced with increasing demand, the problem of finding, recruiting and integrating pool installers and too few young, recently qualified people, we decided to create our own specific in-house training module. It could offer an opportunity for people looking to retrain while also creating jobs," highlights the head of the company.
 The project involves dedicated training within the La Fouillouse training centre, which has hosted numerous other sales, technical and management courses since the 1990s," observes Jean-Louis Desjoyaux. The first two-month training course is expected to start by the spring of 2021.
Training twenty or so masons
The initial aim is to train twenty or so masons, who will be recruited from right across France. "Following that, why shouldn't we extend the courses to training for electricians and plumbers?" muses the head of the company.
On the eve of a new lockdown, the Desjoyaux Group is still feeling confident. "During the first lockdown, we adhered strictly to the protective measures, established remote working and set ourselves up to stay open and to deal with the situation. We gradually reopened our stores (not without difficulty) and continued to sell.
Our customers followed suit. Despite this new lockdown, 2020 will be a historic year for us," he concludes.
Le Quotidien de la Formation – By Eric Delon – 10 November 2020.