Home
>
All news
Desjoyaux: the source of the company's success
09/09/2020
"This swimming pool manufacturer located in Plaine du Forez, France, has conquered our blue planet through sheer daring and expertise. Founded nearly 55 years ago, Desjoyaux has become the world leader in inground pools, while remaining a family business. Here is the story of this long journey."
In the 1990s, Desjoyaux pools were the first to be advertised on television, supporting facilities and equipment for aquatic leisure activities to become more accessible to the public. And the gamble certainly paid off. Jean-Louis Desjoyaux is happy with the result, but his explanation is simple: "It's true, we have always been daring, but it was a calculated risk that bore fruit." And it's true that the Desjoyaux family has cultivated this bold outlook right from the start.
"In 1966, my father, who was an avid swimmer, built a swimming pool for us children. At the time, it was revolutionary, something you only saw in Hollywood!" remembers the entrepreneur.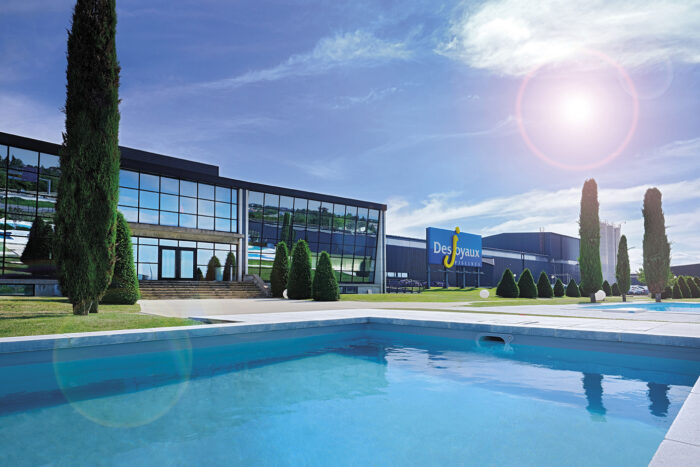 The success story
When the current CEO is asked to explain the reasons behind the success of the family business, he mentions two. Firstly, "we have a long history in the building trade. Before being pool manufacturers, we were bricklayers and tilers." In other words, Desjoyaux is intimately acquainted with the trade, and not just selling dreams of blue lagoons
Later, in the 1970s, it was the successful shift towards automation that triggered the company's national, then global success. "After building his first swimming pool in 1966, my father, Jean, tested just about every possible technique. In 1974, we started to industrialise the process on our first site at La Fouillouse, and later on a second site." The concept behind Desjoyaux pools is a modular polypropylene casing, which can be put in containers and sent to the other side of the world. 2,000 tonnes of this material are extruded every year at La Fouillouse. The pools also use a pipeless filtration system patented in 1983, "which made us number one in France, then in Europe, and then worldwide", summarises the company's CEO.
The firm has never stopped innovating, registering patents, and positioning itself on all markets, from entry-level to very high-end, from private individuals to large hotel groups.
In 2016, Desjoyaux launched Mobipool, a floating pool designed to be placed on stretches of water that are not suitable for swimming. A year later, it marketed Kity, a low-cost DIY kit pool. This concept also addresses the lack of contractors specialised in pool construction.
Global success
Nowadays, the company has 165 sales outlets in France, and 7 subsidiaries abroad. "5,000 people work for us around the world. But we have deliberately chosen not to do franchises. We only work with resellers with whom we have exclusive contracts."
The company generates 35% of its turnover from exports to 80 countries, "and we hope to reach 50% within five years," explains the company head. Reading from the latest figures, he then goes on to list the countries that are doing well: "We're booming in Germany," he says, before also mentioning Belgium, Italy, the Czech Republic and Spain.
Desjoyaux pools are also very successful in the Middle East (Qatar, Kuwait, Iraq, Egypt, etc.), and Africa (Morocco, Cameroon, etc.). The Asian market is stable, "but figures have risen in Malaysia," he adds, seeming almost surprised.
Pools of the future
In order to remain on top, the company must anticipate tomorrow's innovations, mainly in terms of its swimming pools' environmental impact. "If all plastic materials were banned in the future, then yes, we would have to turn to other solutions," admits the entrepreneur, before bluntly adding, "but I'm not sure swimming pools full of tadpoles and bacteria will prove very popular."
The biggest trend is likely to be the size of the pool. "Land is becoming increasingly expensive and gardens are getting smaller, so the size has been reduced. We often make pools that are 1.20 to 1.40 m deep and 8 or 10 metres long by 4 or 5 metres wide. The advantage being that they cost less to maintain."
The market is therefore moving towards small pools with integrated wellness features. The company is considering branching out into other areas, starting with spas, "although it's not our core business," he admits. The company also markets cleaning robots, chairs, pool decorations and other elements of poolside equipment.
Finally, pool manufacturers will need to focus on being present and efficient on the renovation market, "which has become a big business. We just change the liner and the filtration unit, but we don't touch anything else. Our pools even comply with anti-seismic standards."
A family of… land lovers
75% of the company is still family-owned. "My son Nicolas will succeed me," as Jean-Louis has already announced. And that's without counting the other members of the family who work in strategic positions in France and abroad.
The entire manufacturing process is based in La Fouillouse. "In my profession, it's no more expensive for me to produce here in France than it would be in Shanghai. To achieve this, we've automated the process as much as possible, but we're still creating jobs in parallel. There are 250 of us at La Fouillouse, and our workforce is still growing. I've never thought of relocating. Unless France suddenly became a communist country, in which case I would go to Luxembourg, but until then, I'm staying!" he adds, rather provocatively.
The Desjoyaux family is truly attached to the area. "We love the Plaine du Forez and its lakes. I raise Charolais cows in Chalain-le-Comtal, and I have even subscribed to Paysans de la Loire farming magazine," says the company's CEO, by way of conclusion.
Article published in Paysans de la Loire –
David Bessenay