Home
>
All news
Coronavirus: after a brief lack of buoyancy, it's back to business for Desjoyaux Pools
07/05/2020
After closing down at the beginning of lockdown, the Loire-based swimming pool manufacturer Desjoyaux quickly got back on track to meet the orders placed before the Covid-19 pandemic, and resume marketing in its 165 stores in France. And this marketing strategy could in fact be boosted in coming weeks, due to the travel restrictions that are likely to be in force this summer.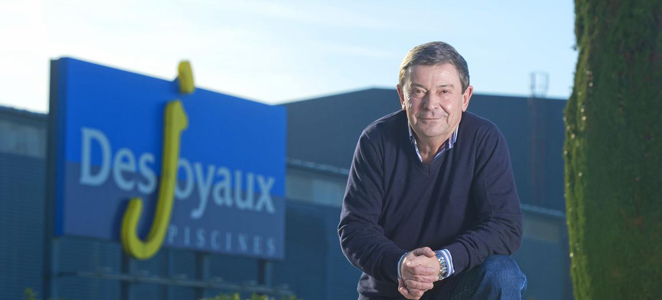 Contrary to initial forecasts, Desjoyaux Pools (240 employees; €103M in turnover) will not exceed the historic €100 million mark in turnover this year. But the good news is that the 2019-2020 financial year ending on the 31st August should not suffer unduly from the health crisis linked to the Covid-19 pandemic.
"We experienced a brief lack of buoyancy during lockdown, but after a few days we managed to restart our activity by implementing strict health measures throughout the factory: systematically washing hands and wearing masks, all of which was monitored by our HR Director, who drops by the workshops twice a day to ensure that distancing measures are observed," explains Jean-Louis Desjoyaux, the CEO of this family-owned business based in La Fouillouse in the Loire region in France. "We also employ an external company to clean and disinfect workstations, offices, toilets and common areas on a daily basis. And we have around forty people working from home."
An activity that is compatible with lockdown
As for the group's 165 stores in France, all of which closed on the 17th March, the reopening process took a little longer. "Our stores reopened progressively. I spent over a fortnight holding crisis meetings to explain that in our line of business, when you're building a swimming pool in a garden, you don't need to be in direct contact with customers, and that once the concrete plants had restarted their activity, we were perfectly capable of dealing with our pre-crisis orders, and even accepting new ones," explains the company director.
The world leader in inground swimming pools has succeeded in maintaining a relatively sustained turnover despite the situation. "We managed to make 8 million euros in sales in March, and we should make between 8 and 9 million in April, compared to 10.5 million during the same period last year. This leads us to believe that we should end the financial year at the end of August with positive results, although we are expecting a slight decrease," adds Jean-Louis Desjoyaux.
Orders pick up as summer approaches
Sustained by the orders placed following the two heatwaves that hit Europe in 2019, the Loire-based swimming pool manufacturer is even tempted to bet that the current crisis could fill its order book. "Since the beginning of lockdown, our number of qualified leads on the internet has gone through the roof. We now need to sell our pools, and I'm actually quite confident because our customers are well aware that their holidays are likely to be compromised this year, or that they won't be able to travel very far. So they're thinking that maybe this is the right time to opt for a private pool," says Jean-Louis Desjoyaux.
And the initial figures support this scenario. "This morning (22nd of April, Editor's note), we secured 27 orders for swimming pools and 10 for shelters in France. Things have started moving, and we're even signing order forms by video call. International business is also continuing to perform rather well, notably in Germany, where our activity never stopped," says Desjoyaux's director.
Article published in LE JOURNAL DES ENTREPRISES -22/04/2020
Gilles Cayuela, 22nd April 2020