Home
>
All news
"Our pools are designed to be assembled like Lego, to form a single monolithic structure."
23/10/2019
French deindustrialisation is not inevitable. You only have to pay a visit to the Saint-Etienne Desjoyaux plant, French leader in the inground pool sector, to be convinced of this.
Thanks to an original concept and highly automated production process, this family-owned SME exports its products worldwide. Jean-Louis (66) and his son Nicolas (38), who is soon to take over the company, share their thoughts.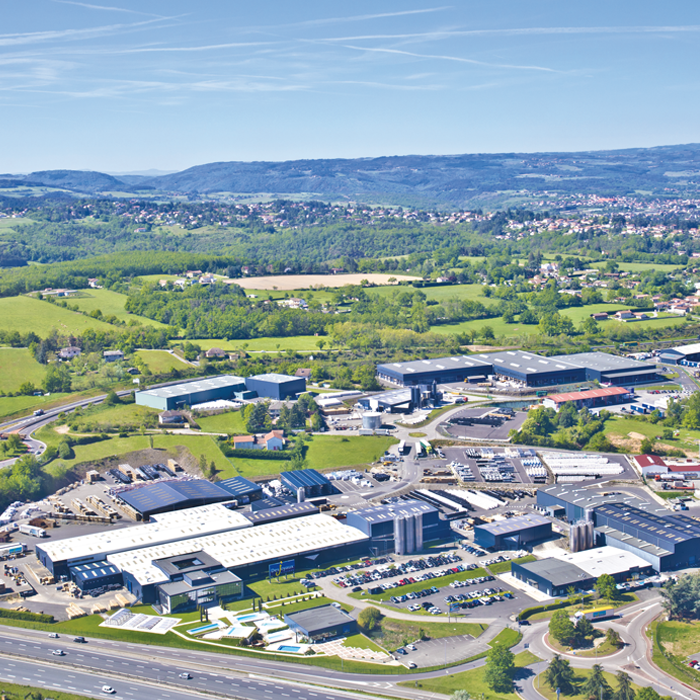 CAPITAL: How well is your company doing?
JEAN-LOUIS DESJOYAUX: We expect to make 100 million euros in turnover during the 2018-2019 fiscal year. The company makes a decent profit, has never lost any money, and has no debts. I was born in Auvergne, where people know that every penny counts…
What are your most buoyant markets?
NICOLAS DESJOYAUX: Export is very dynamic, Germany in particular, where we have 90% growth. And the average sales transaction is high, at 38,000 euros. We're present in 80 countries, with 8 subsidiaries, and a network of exclusive dealers. Most of our exports concerns Europe, but we're making inroads in a number of countries, such as Turkey, Hungary, Saudi Arabia, Israel and even Syria. We're making a second attempt in the United States after a disappointing first endeavour. Within 5 years, export is expected to represent 50% of our sales.
What is the most popular pool size?
N. D. The most frequently bought size is 8 x 4 metres for a budget of approximately 20,000 euros. But we can make smaller and even much larger pools. We built a 2.5-hectare pool for a hotel in Egypt, and an infinity pool on a terrace in Brazil. And we're currently drawing up a quote for a famous Brazilian player, but I'll say no more.
What sets your pools apart from those of competitors?
J.-L. D. Our pools are designed to be assembled like Lego, to form a single monolithic structure. This reduces the cost of logistics during export and facilitates the work of installers, as there are fewer risks of defects. Our problem is that we're sorely lacking in bricklayers, and not only in France. There's a shortage of labour in this trade, despite the fact that it pays well.
We intend to set up an apprenticeship school to try and find a solution to the problem.
If we had more bricklayers, we could build 20% more pools in France.
Is your plant near Saint-Etienne operating at full capacity?
J.-L. D. The plant is run in three eight-hour shifts. In terms of production, that's 60 pools a day. But it isn't working at full capacity. It's entirely automated, and we have standardised the manufacturing procedure as a way of speeding up the installation process. This is an important selling point for customers, as we can promise that their pool will be installed in less than a fortnight.
Why don't you import products from China?
J.-L. D. Absolutely everything we produce is made in France, and that's something we are proud of. Our moulds are made in Rhône-Alpes, and nothing comes from China. Some of our moulds are non-standard sizes, and not found in any other area of the plastics industry, not even in the automotive sector. We make everything ourselves: the skeletal structures of the pools, the filtration systems, the coping, stairs, shelters, and the hydraulic component in our pumps. This integration enables us to create value upstream, and therefore make a profit.
How eco-friendly is all of this?
N. D. Our parts are made from recycled products. We buy household or industrial polypropylene waste, such as car bumpers and dashboards then crush and extrude them. When a part is defective, it simply goes back into the circuit. Furthermore, our pipeless filtration system, which was designed to be simple, has also proven to be eco-friendly: it's energy efficient, and doesn't discharge chlorinated water into the sewerage system.
You're a self-taught man, yet you've filed a number of patents…
J.-L. D. My father gave me this passion for all things industrial. When you're at the head of an SME such as ours, you need to be intuitive and able to take risks.
Are you asking for a reduction in expenses, and namely taxes, like many other SMEs?
J.-L. D. The CICE (Tax credit for employment and competitiveness) isn't suited to the industry, although we have benefited from it. The idea of reducing corporate tax, as announced by President Macron but since postponed, would be great for employment. But our real concern is the increasing number of standards that need to be taken into account and hinder our competitiveness. Government bodies are constantly on our backs, and it's getting unbearable.
Can you give us an example?
J.-L. D. Well a few months ago, there was a fire in our offices. As a result of this, the government said that our facilities don't meet the standards required to deal with fire hose water. The DGCCRF (General Directorate for Competition Policy, Consumer Affairs and Fraud Control), the DREAL (Regional Department of the Environment, Planning and Housing), the labour inspectorate and so on… we are coming under close scrutiny by a number of government services. We're learning to adapt, but it's becoming infuriating.
Did you approve of the bonus idea put forward by President Macron?
J.-L. D. It was a great idea: we gave 500 euros to all our employees. If the plan is upheld, and if our results allow us to do so, we'll double that amount.
You maintain a high level of investment. Why is that?
J.-L. D. At cruising speed we invest 5 million euros a year, and sometime more, including during the crisis in 2008, which obliged us to strongly reduce our production level. Our growth potential remains high, both abroad and in France. 1.3 million individual homes have a Desjoyaux pool, and there could be 7 million more. If we need to extend our plant we have 15 hectares of available land to do so. It will be up to the fourth generation to build new units.
Interviewed  by CHRISTOPHE DAVID-
Capital June 2019